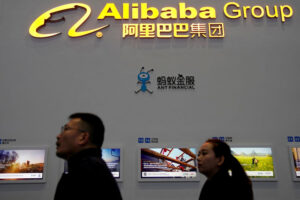 Investing.com — Alibaba (NYSE:BABA) has decided not to go ahead with a full spin-off of its key cloud unit, citing the impact of enhanced U.S. controls on exports of advanced computing chips and semiconductor manufacturing equipment to China.
"We believe that these new restrictions may materially and adversely affect Cloud Intelligence Group's ability to offer products and services and to perform under existing contracts, thereby negatively affecting our results of operations and financial condition," the Chinese e-commerce giant said in a statement.
Alibaba added that it has also chosen to put an intial public offering of its Freshippo grocery division on hold to evaluate market conditions and other factors.
© Reuters
U.S.-listed shares in Alibaba tumbled in premarket trading.
The move to scrap its cloud unit spin-off threatens to rupture a major pillar of Alibaba's long-stated plan to split into six separate entities in a bid to appease regulators in Beijing and stimulate growth.
The cloud unit has also been at the heart of the firm's attempts to develop its use of generative artificial intelligence, following a boom in the sector this year. Alibaba had earlier this month rolled out a major update for its Tongyi Qianwen AI model.
Thursday's announcement comes as the company reported second-quarter adjusted earnings before interest, tax, depreciation and amortization of 49.24 billion yuan ($1 = 7.2481 Chinese yuan renminbi), while revenue rose by 8.5% on an annual basis to 224.79B yuan.
Meanwhile, Alibaba unveiled its first-ever annual dividend, as part of "continued efforts" to deliver shareholder returns. The company said its board of directors had backed an annual cash payout of $0.125 per ordinary share or $1 per American depositary share as of the close of business on Dec. 21 — an aggregate amount of approximately $2.5B.
"Going forward, we will continue to review and determine the dividend amount based on factors such as business fundamentals, capital requirements, among others, on an annual basis," Alibaba noted.
Ambar Warrick contributed to this report.